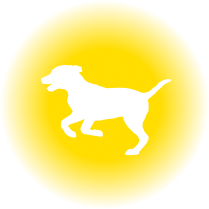 Pet Insurance
You want your pet to receive the best care when it's needed most. Be sure you're prepared, with the best pet insurance available.
Your pet is special to you. Your insurance plan for it should be, too.
With coverage starting at just $25 per month, you can visit any licensed veterinarian in the US, submit claims from your smartphone and get cash back for eligible care. Plus, members have 24/7 access to expert veterinary advice and enjoy everyday savings on pet products, services and Rx purchases. All that is available through coverage provided by Nationwide®.
Coverage options include:
Accidents, including broken bones, sprains, lacerations and poisoning
Illnesses, including allergies, ear infections, arthritis and cancer
Preventive care, including checkups, vaccinations and flea/tick medication
"Sandy Garza has always taken the time to explain all my options when it comes to insurance. She and her staff have always had my best interest at heart. Not only are they all knowledgeable, responsive and respectful, but the pinnacle of professionalism. I am one who value's honestly and loyalty. I am proud to refer her company to my family and friends. Tim H."
"I have had the pleasure of working with Sandy Garza & Associates for a few years. They handle all of the insurance needs for the company I work for. I was so impressed by their professionalism and attention to detail, that I now use them personally. Roland Luna has been my agent, and his work has been of the highest order. I strongly recommend him and this company if you are shopping for insurance. Mike M."
"Best Insurance Agency ever, Josh Cobar is the guy to go to. He goes ABOVE & BEYOND to help you find the best quote ever. He is very professional and very patient as well. He made sure I got the best deal ever, seriously couldn't thank him enough for all his help. He is the best. Stephanie R."